Amnesia Atómica NYC, presented by the Bulletin of the Atomic Scientists and Times Square Arts, brought artist Pedro Reyes' inflatable mushroom cloud sculpture, ZERO NUKES, to Times Square May 17-24, 2022.
ZERO NUKES served as the centerpiece for Amnesia Atómica NYC, an exposition and call to reduce the dangers of nuclear weapons, which included a series of public programs and events throughout the city designed to spotlight the work of activists, artists, and organizations involved in non-proliferation and disarmament.
Amnesia Atómica was curated by Pedro Alonzo, who specializes in ambitious artworks in public spaces. Inspiration for Amnesia Atómica was sparked at an incubator created by N Square, a network of innovators committed to ending the nuclear threat.
A two-day Mobilization Expo, organized by the Bulletin, showcased artists, activists, and organizations offering hands-on activities, VR experiences, information booths and merchandise to engage those passing through Times Square.
Other events featuring ZERO NUKES
In the first iteration of the project, Bulletin president and CEO Rachel Bronson traveled to Mexico City in February of 2020 to join artist Pedro Reyes and the Mexican Ministry of Foreign Affairs in unveiling Amnesia Atómica, a three story inflatable mushroom cloud commissioned to "…raise public awareness, revitalize the once vibrant anti-nuclear community and most importantly put pressure on political leaders, policymakers and global citizens by reminding them of the consequences of inaction." The sculpture served as a central component of a three-day commemoration of the 53rd anniversary of the Treaty of Tlatelolco, a historic agreement that created a nuclear weapons free zone for Latin America and the Caribbean.
In the early days of planning the 2020 exhibition, art students at the School of the Art Institute of Chicago (SAIC) worked on projects to engage the public anticipating the upcoming events in New York City. When COVID delayed the exhibit, and thus made it impossible to show when intended, the students worked with the artist, curator, and local SAIC instructors to present their work at the 75th anniversary of the bombings of Hiroshima and Nagasaki at the University of Chicago where the atom was first split. The renowned Japanese American movement artist, Eiko Otake, performed a harrowing piece commemorating the dead.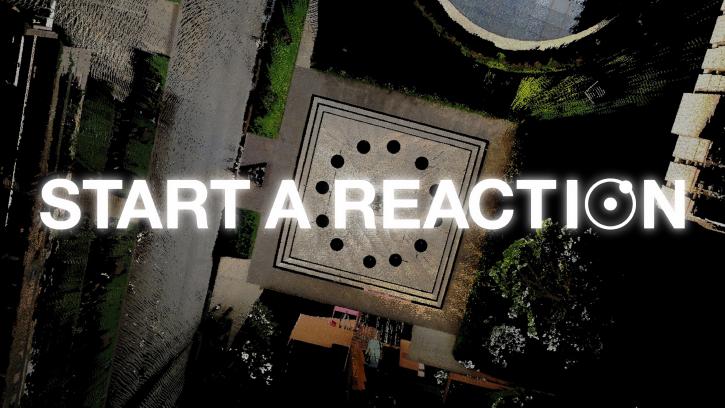 In fall of 2022, activist groups in Sweden mounted an exhibit of ZERO NUKES to remind Swedish leaders that their bid to join NATO in response to the Russia's invasion of Ukraine would have nuclear consequences that had not been fully considered by the Swedish people. These multiple uses are a testament to the versatility and impact of the art, and we believe that it is valuable to seek ways that it — and new art installations — can be used to engage new generations while honoring those most affected.