Take the #TurnBackTheClock Challenge!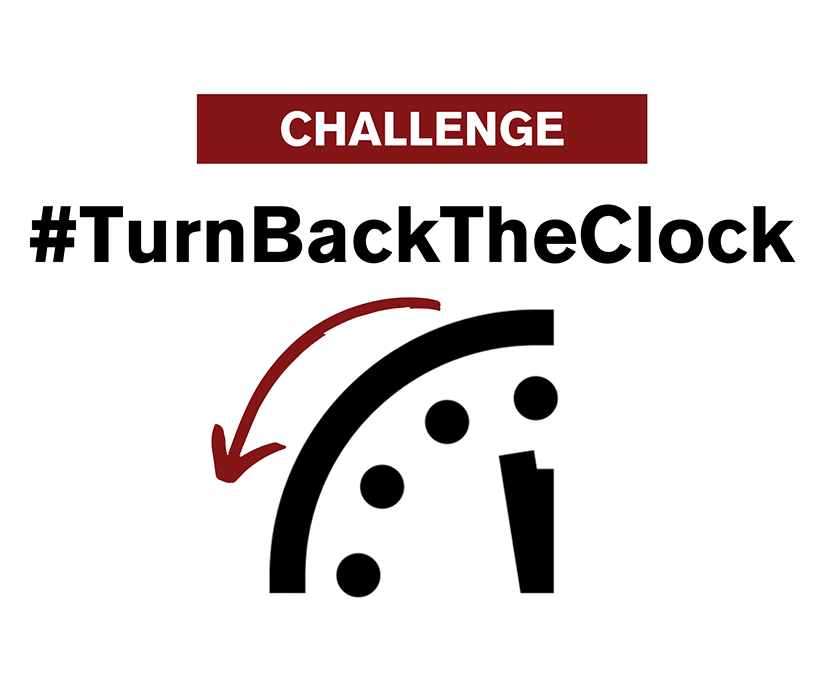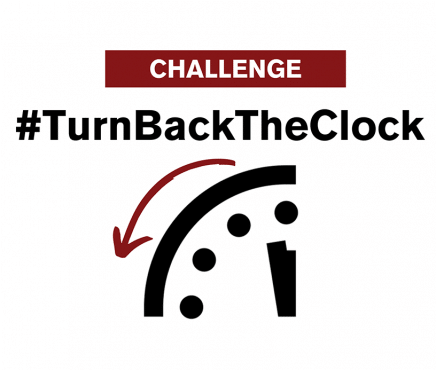 This year marks the 75th anniversary of the Doomsday Clock.
The Doomsday Clock is a metaphor for how dangerous this moment in human history is — and the urgent need to get involved. We want to hear about the actions that inspire you and how we can work together to save the world.
Since 1947, the Clock has been a symbol for how close humanity is to destroying itself with nuclear weapons, climate change, and disruptive technologies.
Our belief is that because humans created these problems, we have the obligation and opportunity to fix them. So, in the 75th year of the Doomsday Clock, we're asking people to share their ideas about what can be done to turn back the Clock.
Challenge submissions can share:
Positive actions that inspire you
People or groups who are making a difference
How you and your community are helping to make the world safer
Share your challenge submissions in whatever format you communicate best, whether that's through art, writing, videos, or song.
To join the challenge, simply share your ideas to Instagram, Facebook, YouTube, Twitter, or TikTok with the hashtag #TurnBackTheClock.
#TurnBackTheClock Gallery
Thank you for your message to young people. Instead of getting mad, be curious and focused!

"No one changes the world alone and no one doesn't change it at all..."

We can all join the #TurnBackTheClock challenge!

— Reilly Neill (@Reilly2020) January 20, 2022
My way of helping to #turnbacktheclock is working to build a small, electric robot that can replace full-sized cars for delivery services, cutting emissions and giving roads back to people. Importantly, it needs to be recycleable and durable to cut down waste too 1/2

— Tranzallos (@tranzallos) January 20, 2022
It's 100 seconds to midnight.
Let's remove nuclear weapons and remove all fossil fuel money and proyects and we will #TurnBackTheClock
Faltan 100 segundos para medianoche.
Eliminemos las armas nucleares y todas las inversiones en petróleo y carbón.
Así el reloj dará marcha atrás https://t.co/BAV46uprHe

— Manuel Caicedo 🌳 (@_ManuelCaicedo) January 21, 2022
Another way to get involved
If the world's militaries diverted just 2% of their spending budget, we could have $1,000,000,000,000 to address climate change, pandemics, and extreme poverty.
The Global Peace Dividend is working to make this a reality with a petition on Change.org.
Bulletin President and CEO Rachel Bronson is among the individuals who have signed the petition and you can be too.
Click the button below to add your name to the petition.