Editor's note: This article was originally printed by the Hubbard Brook Research Foundation. Re-published with permission.
Ice storms are extreme winter weather events that affect people and forests around the world. In the northeastern United States, where icing is common, major ice storms have the potential to reshape our forest ecosystems and the ecological attributes we rely on, including clean water, wood products, carbon storage, and natural areas for recreation and scenic beauty.
Scientists from the Hubbard Brook Ecosystem Study set out to understand more about how the forests of the Northeast respond to and recover from ice storms. As extreme weather increasingly becomes a hallmark of climate change, their research provides important insights for future forest management and storm response.
The Ice Storm Experiment at Hubbard Brook involved three efforts: (1) the first-ever experimental ice storms, conducted within controlled plots at a research forest, to understand and quantify the effects of different amounts of icing on hardwood forests; (2) synthesis of research related to the epic 1998 ice storm in New England to understand the long-term impacts of ice storms on forests; and (3) climate modeling to understand the frequency and intensity of ice storms under possible future climate change scenarios.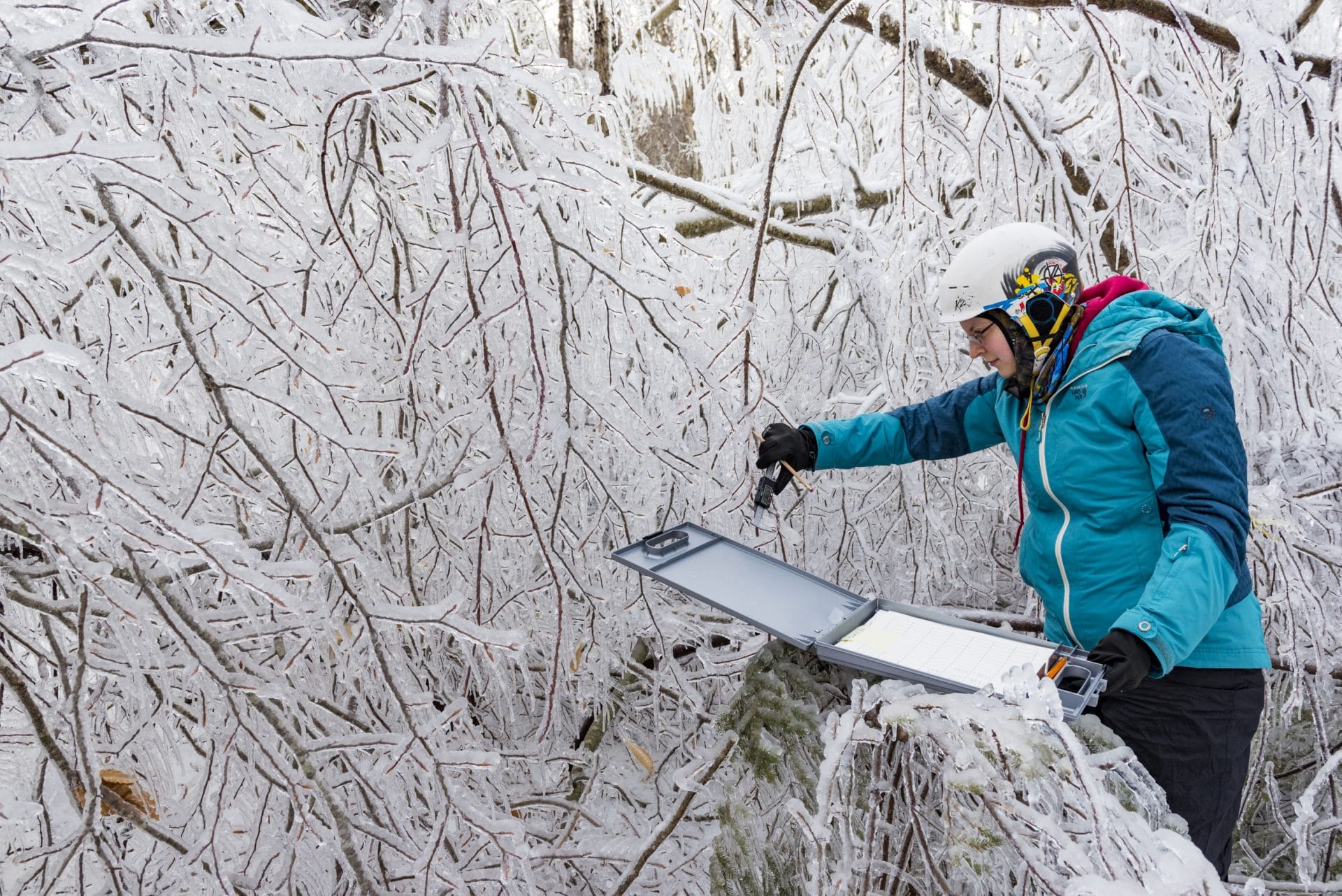 Student researcher Wendy Leuenberger measures ice accretion during an experimental ice storm. Photo by Joe Klementovich.
The Ice Storm Experiment at Hubbard Brook provides the first quantitative measurements of twigs and branches falling from forest canopies to the forest floor in response to different intensities and frequencies of ice accumulation. These metrics can help foresters, emergency managers, town planners, electric power utilities, arborists, winter recreationists, and others be better prepared for the aftermath of ice storms.
Results from the experiment suggest that mature northern hardwood forests will sustain little damage below ¼-inch of radial ice accretion, moderate damage with up to ½-inch of accretion, and potentially catastrophic damage with upwards of ¾-inches of ice or more. Based on these results, current ice storm warnings that are issued by the National Weather Service in New York and New England for about ½-inch or more of radial ice accretion may be too high because significant forest effects, including branch-fall, will have already occurred or be underway. The ¼-inch ice storm warnings  issued for the Mid-Atlantic states may provide a safer level to alert the public about pending tree damage from ice storms.
Results from this experiment also suggest that first responders and forest managers need to be prepared for an equal or greater amount of woody debris falling from the canopy if large storms occur in back-to-back years. In this experiment, damaged branches that did not fall in the first year were more susceptible to further damage in an ensuing year.
In New England, extreme ice storms have occurred about every 35–to-85 years, moderate ice storms have occurred about every 5-to-10 years, and light icing occurs every winter. Across the United States, ice storms account for roughly 60 percent of winter storm economic losses. They have caused more than $16 billion in insured property losses between 1949 and 2000. During severe ice storms, schools, businesses, and other services close. Slick roads and walkways, and carbon monoxide from unvented heating devices lead to injury and even deaths.
Ice storms can form anywhere where the conditions are right. They are common in an ice storm "belt" that extends from Texas to New England, as well as the Midwest, and mountainous regions of the Pacific Northwest.
Ice storms form when an upper layer of moisture-rich warm air overrides a ground layer of sub-freezing air. Precipitation falls from the upper layer as rain, supercools as it falls through the lower layer, and freezes as it contacts cold surfaces.
About the project and team
Funding for this research was provided by the National Science Foundation (NSF) under Grant No. 1457675. Any opinions, findings, and conclusions or recommendations expressed in this material are those of the authors and do not necessarily reflect the views of NSF.
Principal Investigators: Charles Driscoll, Syracuse University; Lindsey Rustad, U.S. Forest Service; John Campbell, U.S. Forest Service; Paul Schaberg, U.S. Forest Service; Katharine Hayhoe, Texas Tech University; Sarah Garlick, Hubbard Brook Research Foundation.
Research Partners: Peter Groffman, City University of New York and Cary Institute of Ecosystem Studies; Timothy Fahey, Cornell University; Robert Stanford, University of Southern Maine
Field Crew: Ian Halm, Frank Bowles, Geoff Schwaner, Gabe Winant, Brendan Leonardi, and many others!
Photography: Joe Klementovich; Video: Jim Surette
PDF version of this Research Brief, including references
More information about the Ice Storm Experiment and links to publications