The annual setting of the Doomsday Clock receives unprecedented international attention each January, driving the Bulletin's impact on global conversations about man-made threats to our existence. The Clock announcements are livestreamed from the Bulletin's website and a variety of media platforms to millions of viewers around the world. International media coverage is seismic, often generating more than 10,000 articles and media mentions within the first two weeks as well as op-eds and editorials in influential outlets like The New York Times, The Washington Post, and the Financial Times. Popular outlets such as CNN, BBC, and Forbes also cover the Clock each year, and a wide variety of policymakers, actors, musicians, and artists will comment on the Doomsday Clock as a starting point for discussions about nuclear risk, climate change, disruptive technologies and biosecurity.
The cultural reach and relevance of the Clock stops the news cycle each and every January and contributes to important conversations throughout the year and across cultures.
To learn more about investing in our global outreach and Clock announcement, contact Anne Puotinen at [email protected] or 773.456.1747.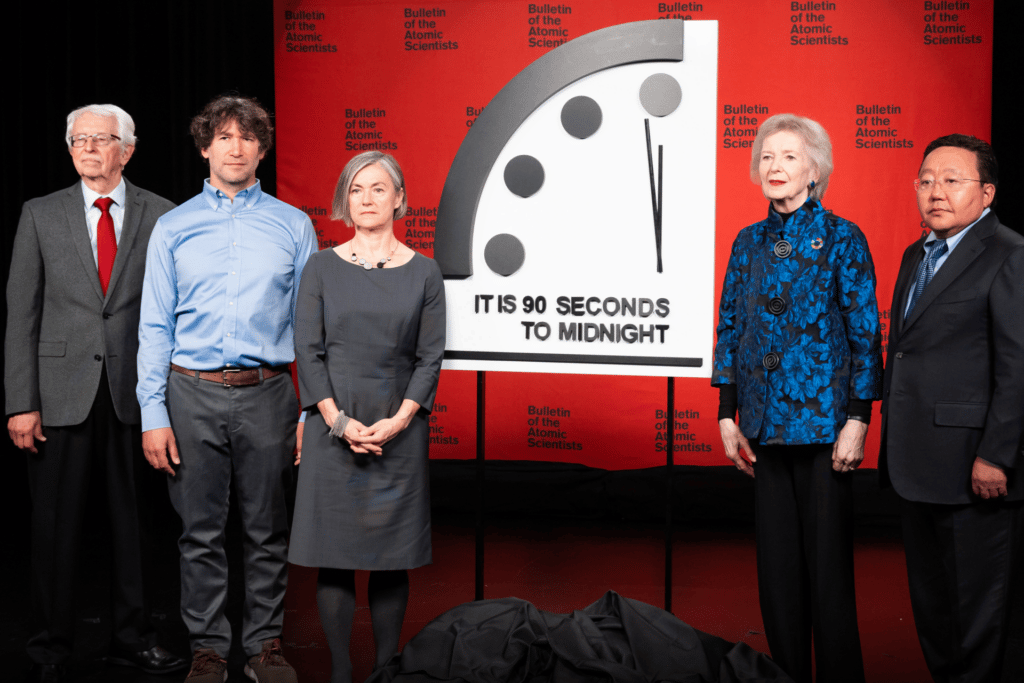 The Bulletin has been developing new programming to include its expanding circle of experts. To deepen relationships and better connect our community to the future work of the Bulletin, we host invitational dinners, special events, and virtual programs. These gatherings feature experts from a variety of disciplines, in partnership with others who have expertise in relevant fields.
This programming provides access to concerned citizens around the world who remain committed to reducing manmade risks. Our programming builds on the success of events we have sponsored in previous years. 
To learn more about investing in upcoming public programming and other events, contact Anne Puotinen at [email protected] or 773.456.1747.
Editorial Content Support
What Bulletin leaders knew over 75 years ago, and what remains true today, is that in order to ensure a safe and secure future, an engaged, mobilized and educated citizenry must insist that leaders make wise choices. Your support will deliver original and timely analysis from scientists and policymakers who are shaping our future and will greatly assist our efforts to help civilization find its way to a safe and stable planet.
The Bulletin's magazine and media platform is widely recognized as a go-to site for exploring the intersection of science/technology and global security. Over the past few years, we have rebuilt our online presence – through our website, social media, and external media partnerships. Our staff is dedicated to outreach and community building, and places the Bulletin on new media platforms such as Flipboard, Apple News, and Smart News. The Bulletin is a leading resource that confronts man-made threats to our existence, but in the new media landscape, we must continue to evolve our platforms to successfully engage larger and younger audiences.
To learn more about investing in Editorial content Ssupport, contact Anne Puotinen at [email protected] or 773.456.1747.
The Bulletin's Arts Science Initiative creates a twenty-first-century platform to attract artists and audiences from outside the scientific community who share its concern for the future of humanity and for how science and technological advancement can be better managed. In keeping with the Bulletin's history, the goal of the initiative is to capture the public's imagination, ignite citizen engagement, and encourage creative evidence-based solutions to humanity's greatest threats.
Amnesia Atómica NYC, presented by the Bulletin of the Atomic Scientists and Times Square Arts, brought artist Pedro Reyes' inflatable mushroom cloud sculpture, ZERO NUKES, to Times Square May 17-24, 2022. The event raised public awareness and reminded political leaders, policymakers, and global citizens of the "consequences of inaction." In addition to New York City, the three-story inflatable mushroom cloud has traveled to Sweden and Mexico City. 
Past partnerships include Human/Nature, which originally opened in Jan. 2022 as a three-month exhibition at Weinberg/Newton Gallery, representing a unique partnership between the Bulletin of the Atomic Scientists and the Gallery. Have a Nice Day II, a virtual reality collaboration and art installation by Ellen Sandor and (art)n, exhibited at the Augmented World Expo (AWE) in 2019 and previously at the Weinberg/Newton Gallery in Chicago.  A collaboration with the Museum of Science and Industry Chicago resulted in the exhibit Turn Back the Clock, a hugely popular exhibit that ran from 2017 to 2019 and that appears as a virtual tour on the Bulletin's website.
To learn more about investing in upcoming Arts Science Initiative events and projects, contact Anne Puotinen at [email protected] or 773.456.1747.