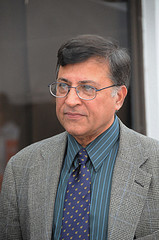 Pervez Hoodbhoy is a Pakistani nuclear physicist and activist.
He has served as a member of the UN Secretary General's Advisory Board on Disarmament and currently serves as Zohra and ZZ Ahmed Foundation distinguished professor at the Forman Christian College.
Hoodbhoy is the author of Islam and Science: Religious Orthodoxy and the Struggle for Rationality (1991) and has written many articles on nuclear topics for Dawn, EQBALAHMAD Centre for Public Education, and other publications.
Hoodbhoy has received numerous awards for his work in nuclear physics and nuclear activism including the Fulbright Award and UNESCO Kalinga Prize. 
Hoodbhoy's Bulletin contributions: