A time of unprecedented danger:
It is 90 seconds to midnight
2023 Doomsday Clock Statement
Editor, John Mecklin
January 24, 2023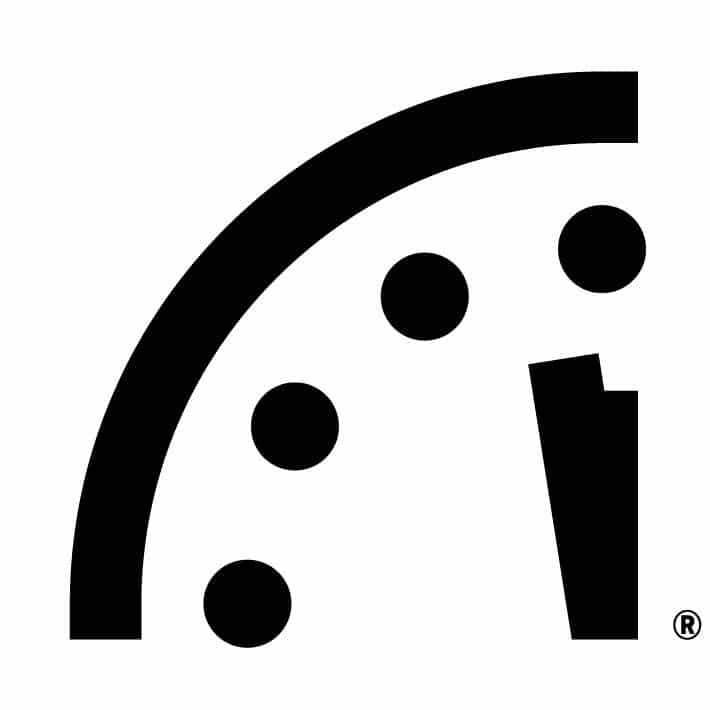 Countervailing dynamics: Addressing climate change during the invasion of Ukraine
Addressing climate change requires faith in institutions of multilateral governance. The geopolitical fissure opened by the invasion of Ukraine has weakened the global will to cooperate while undermining confidence in the durability, or even the feasibility, of broad-based multilateral collaboration.
With Russia second only to the United States in global production of both natural gas and oil, the invasion of Ukraine sparked a rush to establish independence from Russian energy supplies, particularly in the European Union. From the standpoint of climate change, this has contributed to two countervailing dynamics.
First, the elevated energy prices have spurred investment in renewables and motivated countries to implement policies that support renewables development. With this rise in deployment, the International Energy Agency now projects that wind and solar energy combined will approach 20 percent of global power generation five years from now, with China installing nearly half of the new renewable power capacity.
At the same time, however, high natural gas prices have driven a quest to develop new gas supplies, spurring investment in natural gas production and export infrastructure in the United States, the EU, Africa, and elsewhere, largely financed by major oil and gas transnationals and investment firms. This private capital continues to flow into developing new fossil fuel resources, even while public finance is facing pressure to pull out. All G7 countries have pledged to end public financing of international fossil fuel projects this year, and the Beyond Oil and Gas Alliance, a group of eight countries, has formally committed to end new concessions, licensing or leasing rounds for oil and gas production and exploration, and to set a timeline for ending production that is consistent with their Paris agreement pledges.
Notwithstanding these two processes, both of which should in principle reduce demand for Russian gas, Russia was on course in 2022 to earn as much as the previous year from oil and gas exports, largely owing to continued European demand.
As a consequence, global carbon dioxide emissions from burning fossil fuels, after having rebounded from the COVID economic decline to an all-time high in 2021, continued to rise in 2022 and hit another record high. A decline in Chinese emissions was overshadowed by a rise in the United States, India, and elsewhere.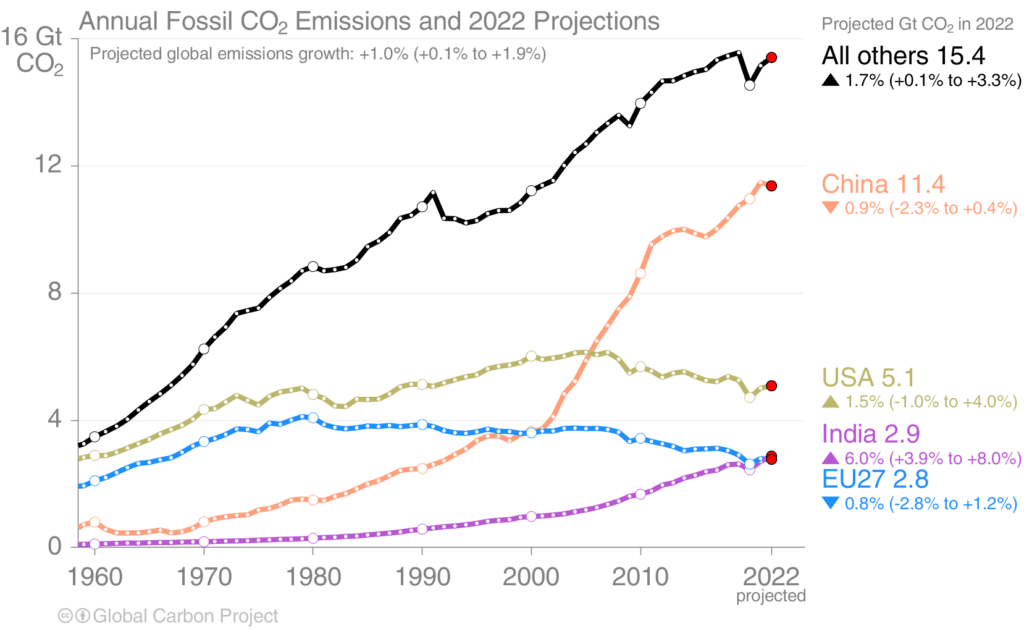 The rise in emissions in 2022 accelerated the ongoing increase in the concentration of greenhouse gases in the atmosphere, which will continue so long as emissions of carbon dioxide continue. Not only did weather extremes continue to plague diverse parts of the globe, but they were more evidently attributable to climate change. Countries of West Africa experienced floods that were among the most lethal in their histories, owing to a rainfall event that was assessed to be 80 times more likely because of climate change. Extreme temperatures in Central Europe, North America, China, and other regions of the Northern Hemisphere this past summer led to water shortages and soil drought conditions that led in turn to poor harvests, further undermining food security at a time when the Ukraine conflict has already driven food price increases. It is Pakistan, however, that faced the year's most dramatic manifestation of Earth's increasingly volatile climate: intense floods due to a "monsoon on steroids" that inundated one-third of the country. The flooding was described as the worst in the country's history, affecting 33 million people directly and unleashing cascading effects, including a major crop failure, an epidemic of waterborne diseases, and the destruction of infrastructure, homes, livestock, and livelihoods.
Against the backdrop of this year's climate-related tragedies, the UN climate regime took a promising step forward on the adaptation front at its annual negotiations in Sharm el Sheikh, Egypt. The parties at the UN climate conference reached a compromise agreement to create a fund to support poor and vulnerable countries in addressing the mounting toll from climate change impacts. To reach the intended goal, the cooperation that led to this agreement needs to persist in this coming year's negotiations, when countries take up the question of actually contributing money to the fund.
Countries were unable, however, to adopt a formal decision to agree to phase out fossil fuels, and even more disappointing, they did essentially nothing to assure that previous commitments to reach net zero greenhouse gas emissions would be fulfilled.
Learn more about how each of the Bulletin's areas of concern contributed to the setting of the Doomsday Clock this year:
About the Bulletin of the Atomic Scientists
At our core, the Bulletin of the Atomic Scientists is a media organization, publishing a free-access website and a bimonthly magazine. But we are much more. The Bulletin's website, iconic Doomsday Clock, and regular events equip the public, policy makers, and scientists with the information needed to reduce manmade threats to our existence. The Bulletin focuses on three main areas: nuclear risk, climate change, and disruptive technologies, including developments in biotechnology. What connects these topics is a driving belief that because humans created them, we can control them. The Bulletin is an independent, nonprofit 501(c)(3) organization. We gather the most informed and influential voices tracking manmade threats and bring their innovative thinking to a global audience. We apply intellectual rigor to the conversation and do not shrink from alarming truths.
The Bulletin has many audiences: the general public, which will ultimately benefit or suffer from scientific breakthroughs; policy makers, whose duty is to harness those breakthroughs for good; and the scientists themselves, who produce those technological advances and thus bear a special responsibility. Our community is international, with half of our website visitors coming from outside the United States. It is also young. Half are under the age of 35.
Learn more at thebulletin.org/about-us.