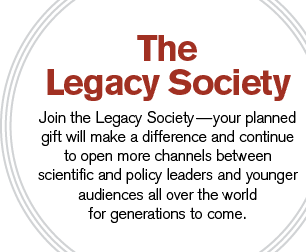 The Legacy Society was established to recognize and honor friends of the Bulletin of the Atomic Scientists who have provided for the Bulletin through their estate plans. The Bulletin of the Atomic Scientists is a nonprofit 501(c)(3) organization committed to making a critical difference by engaging science leaders, policy makers, and members of the interested public on topics of nuclear risk, climate change, and emerging technologies.
Membership in the Legacy Society is open to all who notify the Bulletin in writing that they have taken steps to provide a future planned gift for the Bulletin through their estate plans. These planned gifts include bequests provided by will or revocable trust, gifts created by various kinds of charitable trusts, and gifts created by naming the Bulletin of the Atomic Scientists as the beneficiary of a life insurance policy, retirement plan, or other financial instrument.
The Bulletin is grateful for the foresight and generosity of all Legacy Society members. TheBulletin's mission is as urgent today as it was at its founding – to make a critical difference by increasing awareness and offering solutions to the most pressing challenges facing our planet and its inhabitants. Legacy Society members' special commitment to the Bulletin's future inspires confidence, serves as an example to others, and ensures that the Bulletin will be here for the next generation and beyond.