We've analyzed thousands of COVID-19 misinformation narratives. Here are six regional takeaways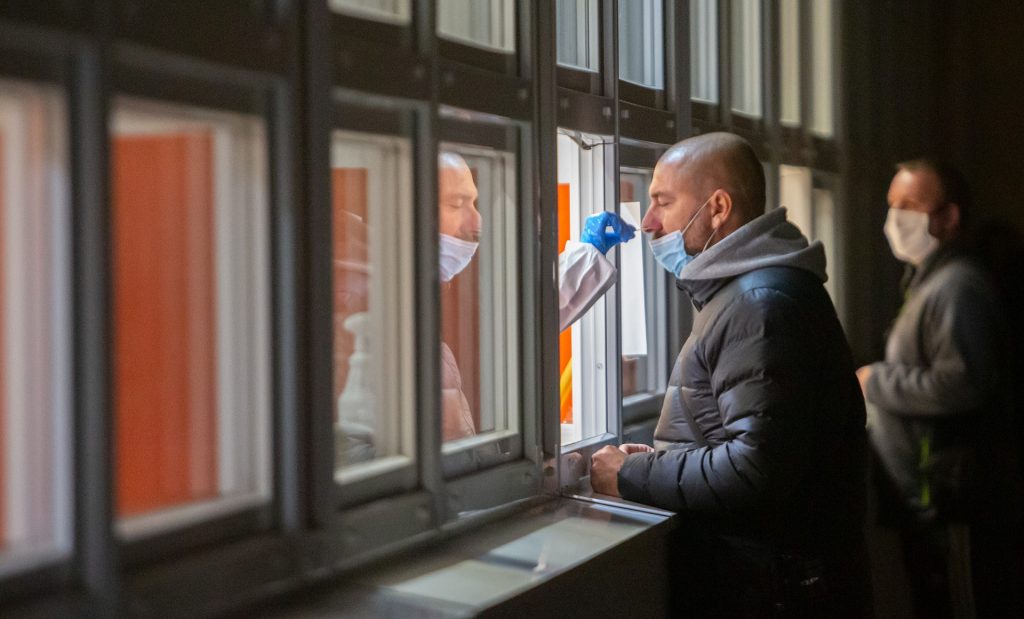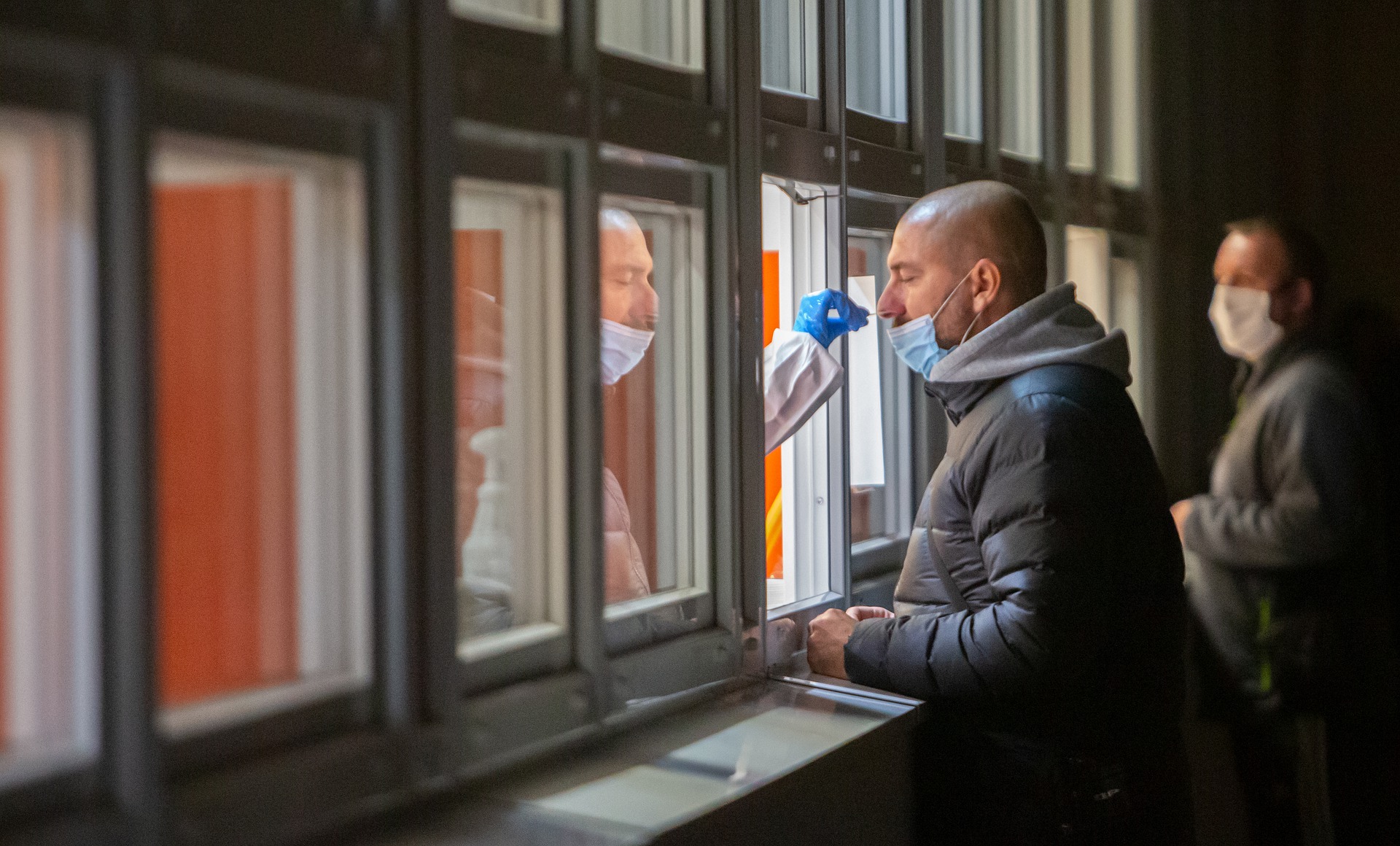 A coronavirus test. Credit: lukasmilan / pixabay.
Five days after the World Health Organization classified COVID-19 as a pandemic, the Empirical Studies of Conflict Project at Princeton University began cataloging misinformation efforts surrounding the spread of the coronavirus in collaboration with Microsoft Research. Our initial goal was to support industry efforts to limit the spread of false narratives about the pandemic, and we realized that categorizing the stories we found in a systematic way and making the data public could contribute to a much broader understanding of trends in COVID-19 misinformation.
Led by Jacob Shapiro, a professor at Princeton, and research specialists Samikshya Siwakoti and Jan Oledan, our team of undergraduate students from Princeton tapped into their language skills to scour the internet and social media the world over to identify, record, and track COVID-19 misinformation narratives. We eventually recruited an international network of 28 research assistants from six universities across 10 countries, covering misinformation stories in every region of the world, from Europe and the Middle East, to Latin America, Asia, Africa, and the United States.
By December 2020, we recorded 5,613 distinct misinformation stories from over 80 countries, in 35 languages.
The global reach of the pandemic created a unique opportunity for a regional analysis of misinformation trends. It allowed us to explore the ways in which misinformation actors in many countries, regions, and cultural contexts responded against the common backdrop of COVID-19. We observed several overlapping misinformation narratives. No matter where in the world we looked, there were plenty of claims of false cures or fake home remedies, outlandish accounts of supposed government conspiracies, and reports of exaggerated case counts meant to instill fear— trends we explored in a series of articles in the Bulletin over the past year.
Most of these stories appear to have been efforts to shape political debates. But a myriad of motivations likely prompted the misinformation we found—including people seeking ideological ends, political gain, and financial profit. An overwhelming majority—80 percent of the stories—were spread by individuals on social media such as Facebook and Twitter, while 17 percent were spread by media outlets and political figures.
It is often suggested that all politics is local; so is misinformation. Contrary to what one might expect from the globalized information environment, the salient themes in pandemic-related false narratives varied significantly across regions and countries; localized false narratives prevailed over global ones. When generating misinformation, social media users seemed to absorb a common set of COVID-19 background conditions and use them to falsify specific narratives to reflect local and regional realities.
Here are some of the important themes we observed, by region:
Middle East and North Africa. Most of the stories we recorded from the Middle East and North Africa sought to spread fear, with the remainder commenting on political matters or spreading false hope by arguing that certain populations were immune to the virus. Thirty-two percent of the stories focused on the state of the virus domestically, and, as we highlighted in a Bulletin piece in early September, domestically focused misinformation in the region frequently involved political or economic elites claiming that their country had a superior record in combating COVID-19. For example, in Egypt, sources falsely claimed a French magazine was praising President Abdul Fattah al-Sisi's response to the pandemic.
Overall, we identified 714 unique misinformation stories in the Middle East and North Africa, with story counts peaking over the summer of 2020.
Sub-Saharan Africa. Most misinformation stories in Sub-Saharan Africa spread on social media—fully 87 percent of the stories we recorded were spread on Facebook alone. The narratives centered around government responses to the pandemic. They frequently criticized domestic and Western actions and  reflected the internal political tensions within countries. For instance, many viral social media posts claimed that Africa had beat the United States to discovering a vaccine or cure for COVID-19.
Last April, for example, Madagascar's president Andry Rajoelina promoted a drink called Covid-Organics, saying that it had already cured people and could show results in seven days. Other countries even announced plans to import the tonic. The herbal drink has featured heavily in online disinformation, including in a claim that the World Health Organization tried to bribe Rajoelina to poison Covid-Organics.
Another subset of false stories in the region comprised schemes to profit from the pandemic. For instance, a scam spread on Facebook that the first lady of Kenya was giving away pandemic funds in response to a small initial payment. Around 10 percent of the narratives in sub-Saharan Africa had some underlying profit-based motive, compared to 3.5 percent elsewhere in the world. In all, we collected 432 independent misinformation stories in the region.
Europe. Misinformation in Europe included stories that claimed COVID-19 could survive on asphalt and that infections could be prevented by everything from drinking tea to shaving. Other narratives were politically charged, often directed at emergency response measures. For instance, in France, members of the right-wing opposition party, Rassemblement National, accused the government of willingly sacrificing the elderly to the virus and causing thousands of deaths with the decision to hold local elections as planned in March 2020. Europe also had a large number of narratives focused on spreading anti-vaccine messages, including false claims of extreme adverse side effects, mandatory state-led vaccination programs, and allegations that the pandemic itself began due to vaccines.
We collected 812 independent misinformation stories from Europe.
Latin America. Much of the misinformation in the region was focused on government responses to the virus, aiming to either undermine or prop up politicians, political parties, and national institutions. There were also many posts promoting false cures and preventative measures, many of which spread elsewhere in the world, as well. These stories, which comprised 20 percent of the narratives we recorded in the region, typically claimed that everyday substances like hot water, lemon, aspirin, ginger, garlic, honey, and vitamin C would cure coronavirus infection.
We collected 699 independent misinformation stories in Latin America.
South Asia. Misinformation in South Asia largely aimed to stoke Islamophobia and exacerbate pre-existing inter-group tensions. There were false claims that Muslims were spitting on food and failing to practice social distancing measures. Other narratives promoted false cures and home remedies for the virus, or spread misinformation about government responses to the pandemic. Notably, 75 percent of the stories we recorded from the region were spread by individual actors, but both media outlets and government actors played a role in contributing to the spread of misinformation.
We collected 475 independent misinformation stories in South Asia.
Southeast Asia. Misinformation in the Southeast Asia was often on topics such as immigration, race, and religion. In some cases, state governments played an active role in spreading these lies. For instance, Philippines President Rodrigo Duterte claimed outbreaks like the COVID-19 pandemic recur in 100-year intervals and that gasoline could serve as a disinfectant against the virus.
We found 415 independent misinformation stories in the region.
The United States, Russia, and the United Kingdom. In many countries, including the United States, Russia, and the United Kingdom, domestic political conditions clearly influenced the kind of misinformation stories being promoted. For example, in Russia, which has a long-standing state-sponsored disinformation sector, the vast majority of the 171 stories we recorded appeared to come from state-sponsored sources, with nearly 70 percent seeking to undermine institutions in rival countries and the West. In the United Kingdom, political misinformation taking aim at government figures and lamenting state overreach was common. Prime Minister Boris Johnson generally rejected science and downplayed the severity of the virus. In the United States, prominent political figures well known for their misleading rhetoric, such as former President Donald Trump, spread many false pandemic narratives.
The promise of fact-checking. While internet discourse on COVID-19 has been rife with misinformation, it's also highlighted the breadth of fact-checking organizations that exist around the world. In all the regions we analyzed, we found fact-checking organizations covering the pandemic, many of which started years before to tackle a range of political issues. The European Union's diplomatic arm, for example, started a fact-checking platform in 2015, EUvsDisinfo, which highlights popular false stories, their sources, and analyzes misinformation trends over time. Amidst a sea of misinformation, such organizations have emerged as beacons of hope.
In most countries, the work of countering misinformation falls to independent organizations. We drew on narratives from 127 such local, regional, and international fact-checking organizations.
A key takeaway of our research is that misinformation is being identified and debunked at the grassroots level by civil society organizations all over the world. Organizations such as the International Fact-Checking Network have made important progress in establishing codes of conduct and providing training for fact-checkers. The work they enable makes it easier for journalists around the world to identify and rebut falls narratives.
And a few working models have emerged for those interested in filtering their news. Newsguard carefully vets news sources and provides scores that others can use to identify trustworthy sources. The Global Disinformation Index provides site-level ratings which advertisers can use to keep their brands off known disinformation sites. Repustar is crowdsourcing analysis of key debated facts and then making the results accessible through a standard search interface, with the goal of informing interested citizens and journalists regarding specific claims.
These efforts provide reason for optimism that those who want reliable news will be able to find it. The central challenge now facing policymakers and civil society actors is how to leverage the fact-checking ecosystem to better counter the spread of misinformation among those who are sympathetic to its themes and do not trust traditional sources.
Editor's note: This is the last installment in a series by researchers working with Princeton University's Empirical Studies of Conflict's COVID-19 disinformation project. Led by professor Jacob Shapiro as well as Samikshya Siwakoti and Jan Oledan, both research specialist for the conflict studies project, students at Princeton and other universities have catalogued the various false narratives that cropped up online about the COVID-19 pandemic. Readers can see the team's disinformation spreadsheet here.
Together, we make the world safer.
The Bulletin elevates expert voices above the noise. But as an independent, nonprofit media organization, our operations depend on the support of readers like you. Help us continue to deliver quality journalism that holds leaders accountable. Your support of our work at any level is important. In return, we promise our coverage will be understandable, influential, vigilant, solution-oriented, and fair-minded. Together we can make a difference.