Nobody in Ashish Agashe's seven-story apartment building in Thane, a suburb of Mumbai, had air conditioning 20 years ago. Today, his apartment is one of only two of the 28 units without it.
"Once you make peace with sweating," says Agashe, "it is easy to survive this weather." He decided against air conditioning because it gives him a "faux feel," and he doesn't believe his income should determine his lifestyle choices. Later, he was "chuffed" to learn that his choice is better for the planet.
Unlike Agashe, many Indians are adopting air conditioning to deal with more frequent and more intense heat waves. Earlier this year, temperatures in parts of India and Pakistan surpassed 120 degrees Fahrenheit.
At age 37, Agashe hopes temperatures do not rise high enough in his lifetime to require air conditioning in Mumbai, a humid and densely populated city on India's west coast that today rarely sees temperatures above 40 degrees Celsius (104 degrees Fahrenheit). But even if the climate stopped changing, he worries that the heat produced by all the air conditioners in his building, which spills in through his open window, may force him to install air conditioning, too.
A global trend. Heat waves are becoming more frequent and more intense around the globe. They are starting earlier and lasting longer. In places like India, rising temperatures are having a profound impact on the global demand for air conditioning. India has four times the population of the United States, and three times as many cooling degree days—a measure of the extent to which outdoor temperatures, over a given period, require indoor cooling for humans to stay comfortable. Multiply these two factors, and India's potential demand for air conditioning is 12 times that of the United States.
Air conditioning is a highly effective adaptation to climate change, but it's also hindering efforts to mitigate climate change. More air conditioning means increased energy use, which means increased emissions—causing more global warming and creating the need for even more cooling.
Air conditioning is still relatively uncommon in heavily populated countries like India and Indonesia (where less than 10 percent of households have air conditioning) and China (roughly half of Chinese households have air conditioning). However, as incomes and temperatures rise, more and more people are investing in home air conditioning. Even in cooler places, people are buying air conditioners and closing their windows to protect themselves from urban smog, wildfire smoke, and airborne pollen, which are all exacerbated by climate change. A 2018 report on the future of cooling published by the International Energy Agency estimated that the number of air conditioners worldwide will grow from 1.6 billion in 2018 to 5.6 billion by 2050. India and China are expected to account for about half of that increase.
5.6 billion
Predicted number of air conditioners worldwide in 2050
This trend, while largely necessary for human health and comfort, comes with some risks. Rising temperatures and ubiquitous air conditioning may push electricity grids to the breaking point during the worst heat waves. Countries like India rely heavily on coal-fired power plants, and the transition to renewable energy isn't happening fast enough to deal with the increased emissions from air conditioning. Breaking out of this vicious cycle will require major policy changes and improvements in the energy efficiency of air conditioners.
1.2 billion
Number of humans currently at high risk of illness or death from heat-related threats
Air conditioning saves lives. In the United States, exposure to heat causes an estimated 12,000 premature deaths per year. Globally, heat kills more than 350,000 people annually, according to one analysis.
More than 1.2 billion people are at high risk of dying or getting sick from heat stroke, from eating food that has spoiled in a hot home, from lack of access to a life-saving medicine that must be stored in a cool place, or from other heat-related health threats. One extremely hot day typically isn't enough to kill someone; what makes heat deadly is the cumulative effect of multiple hot days followed by nights that aren't cool enough to provide temporary relief and recovery.
Climate change experts talk a lot about "adaptation" to climate change and how governments can facilitate it on a societal level. On the personal level, though, buying an air conditioner—for those who can afford one—is the primary way people adapt to global warming. Air conditioners are very effective at preventing heat-related deaths while also improving comfort and productivity.
1.2 billion
Number of humans currently at high risk of illness or death from heat-related threats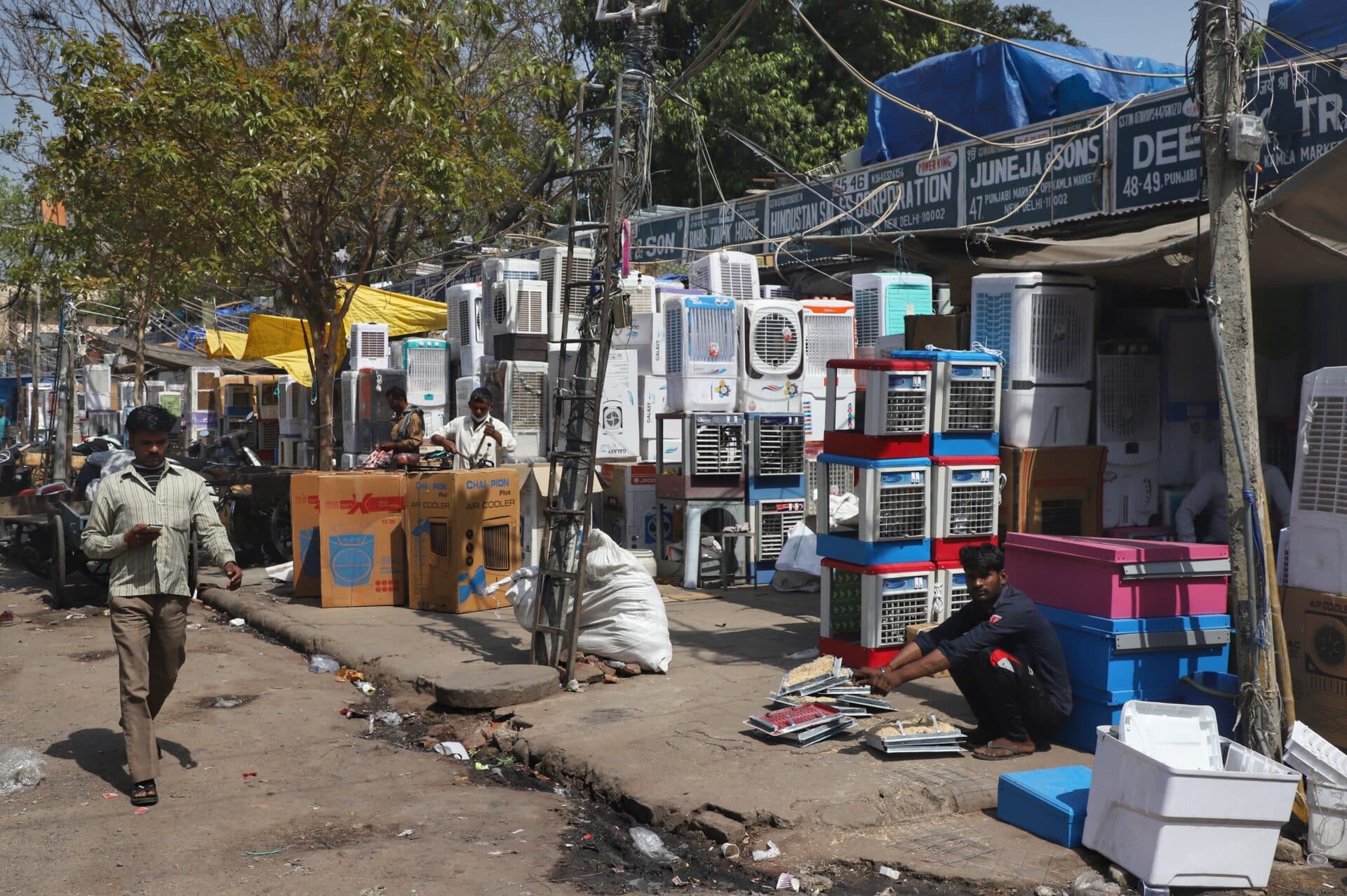 Booming sales. Sales of residential air conditioners are consequently booming worldwide. The number of air conditioners in operation has more than doubled over the past 20 years, according to the International Energy Agency. On average, more than 11,000 residential air conditioners are sold somewhere on the planet every hour.
Today about a third of all households own an air conditioner, but their distribution is based more on income than on need. "As people grow richer, they adopt air conditioning," says Lucas Davis, a professor at the University of California Berkeley's Haas School of Business who has studied the spread of air conditioning and how it will affect future energy use. When households reach an annual income of about $10,000, they can afford an air conditioner, he says.
In the United States and Japan, more than 90 percent of households have air conditioners, and even that isn't enough to prevent deaths during an extreme heat wave. People who live in cooler regions where air conditioning hasn't been needed in the past, or who are too poor to own an air conditioner, are increasingly at risk.
11,000
Number of residential air conditioners sold on the planet every hour
11,000
Number of residential air conditioners sold on the planet every hour
Because hot regions of high-income countries are already saturated with air conditioning, it's largely middle-income countries—like India, China, and Southeast Asian nations including Indonesia, Thailand, and Vietnam—that are driving up air conditioning sales.
"I would not want to live in Delhi without air conditioning," Davis says.
In sub-Saharan Africa, where incomes remain low on average, air conditioning is still uncommon. Only 8 percent of the 2.8 billion people who live in the hottest parts of the world have air conditioning. That growing inequality in access to cooling has led to a remarkable political result: calls to make air conditioning a human right.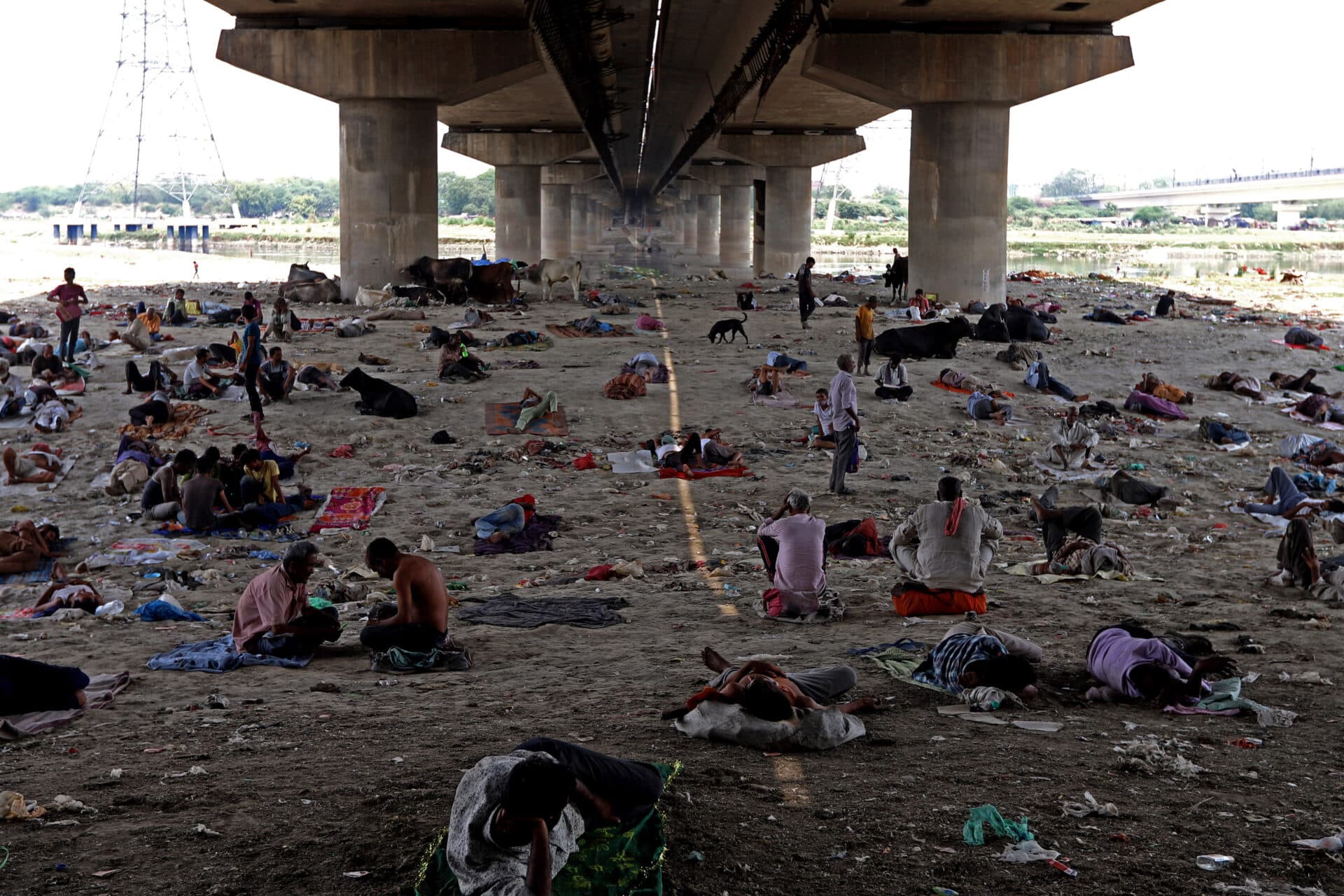 More cooling, more problems. Keeping billions of air conditioners running requires an ever-growing supply of electricity. Today air conditioners consume more than 2,000 terawatt-hours of electricity annually, which is two and half times Africa's total electricity use. The United States alone consumes 400 terawatt-hours per year for air conditioning, or about 1.5 percent of all electricity used worldwide.
The amount of electricity needed for air conditioners is likely to triple by 2050, which will require new energy sources equivalent to the combined electricity capacity of the United States, European Union, and Japan today.
In many of the newest markets, people are buying entry-level air conditioners that can be as little as one-fifth as energy efficient as the best available technology. If nothing is done to dramatically improve efficiency and move toward renewable sources of electricity, the rapid rise of air conditioning could be disastrous for the climate. Greatly increased air conditioning use also raises the chances of lethal power blackouts during summer heat waves.
2.5 billion
Number of people without air conditioning in the hottest regions of the world
300%
Global increase in electricity that will be needed just for cooling by 2050 — or more than 6,000 terrawatt-hours
In Delhi and some other large Indian cities, air conditioning already accounts for nearly half of the peak summer electricity load. The International Energy Agency projects that space cooling could rise from 10 percent of India's overall peak electricity load today to 45 percent by 2050.
"This is an enormous challenge for the grid," Davis says. Air conditioning can easily double electricity use, he says. "Many grids around the world are, frankly, not up to it."
Even in the United States, grid failures have increased by more than 60 percent since 2015. In Texas this month, the grid operator asked customers to voluntarily reduce their electricity use to keep the grid stable during conditions the National Weather Service described as "extreme" and "dangerously hot."
A study published in December warned that increased use of air conditioners in a warming climate could exceed the country's electric capacity in the next decade. To offset this "climate-induced demand," the efficiency of air conditioners must increase by as much as 8 percent over current levels, the study concluded.
300%
Global increase in electricity that will be needed just for cooling by 2050 — or more than 6,000 terrawatt-hours
Solving the cold crunch. Davis says the best way to prevent what many experts see as a looming "cold crunch" is to increase electricity prices to reflect the external costs of increased emissions. "Electricity prices are too low in many places," he says, and many countries subsidize electricity generated by fossil-fuel-fired power plants.
The International Energy Agency's report on the future of cooling recommends higher electricity prices for peak hours but focuses mostly on measures to improve the energy efficiency of air conditioners and buildings, such as minimum energy performance standards for new air conditioners. In an "efficient cooling scenario," the growth in energy use for space cooling could be limited to less than half of the energy demand that would exist without major efficiency interventions, the report projected. But these standards would have to be adopted quickly, before consumers buy inefficient air conditioners that are then "locked in" for many years of use.
In Japan and Korea, government policies and programs already succeeded in nearly doubling the energy efficiency of air conditioners within a decade, while the price of air conditioners (adjusted for inflation) declined. Based on this success, an analysis by researchers at Lawrence Berkeley National Laboratory concluded that the technology needed to accelerate air conditioner efficiency in India is available. By ratcheting up minimum performance standards so they required all air conditioners meet the country's five-star rating rather than its one-star minimum efficiency, India could save a whopping 64 terawatt-hours of electricity annually by 2030, the researchers reported.
Past improvements in efficiency have come not from any single technology, but rather from steady, incremental improvements in several technologies. One technology that is becoming increasingly popular in many parts of the world is the ductless mini-split, which mates an outdoor compressor/condenser with an indoor air-handling unit. Sending cool air directly to the room where the indoor unit is installed eliminates energy losses associated with the ducts in a conventional central cooling system.
64
Terawatt-hours of electricity India could save by 2030 by switching to high-efficiency air conditioners
64
Terawatt-hours of electricity India could save by 2030 by switching to high-efficiency air conditioners
Improved energy efficiency isn't the only way to make air conditioners more climate-friendly. For example, replacements for the current refrigerants used in air conditioners—which act as potent greenhouse gases when they leak into the atmosphere, as some inevitably do—can help reduce climate impacts.
Some of the biggest manufacturers of air conditioners have already produced prototypes of air conditioners with one-fifth the climate impact of conventional air conditioning units. The two winners of last year's Global Cooling Prize—the Chinese manufacturer Gree Electric Appliances, which partnered with Tsinghua University, and the Japanese manufacturer Daikin, which partnered with the architecture and engineering firm Nikken Sekkei—plan to bring their technologies to market by 2025.
Like these manufacturers, individuals will continue seeking ways to adapt to a hotter climate. Some will migrate to cooler places. Some will buy air conditioners. Some will also buy fossil-fuel-powered generators to keep their air conditioners running during blackouts.
And in suburban Mumbai, when it gets really hot in his fifth-floor apartment, Ashish Agashe will turn up his five-speed ceiling fan.
As the Russian invasion of Ukraine shows, nuclear threats are real, present, and dangerous
The Bulletin elevates expert voices above the noise. But as an independent, nonprofit media organization, our operations depend on the support of readers like you. Help us continue to deliver quality journalism that holds leaders accountable. Your support of our work at any level is important. In return, we promise our coverage will be understandable, influential, vigilant, solution-oriented, and fair-minded. Together we can make a difference.
Share: [addthis tool="addthis_inline_share_toolbox"]