"Few things are more important in the days in which we live than the search for those truths to which the Bulletin of the Atomic Scientists is dedicated."
~ Albert Einstein
December 1, 1952
Einstein Circle Membership
Einstein Circle members are donors who annually make leadership gifts of $1,000 or more to the Bulletin. Members experience access to special briefings, exclusive invitations, personalized communications, and much more.
Today at the Bulletin we work to make sense of the events and challenges that keep global leaders and you up at night, and offer guidance for how to respond. It is why we seek out cutting edge research from the world's leading scientists and security experts on nuclear risk, climate change, and disruptive technologies. Only by working together can we broaden the conversation and generate innovative ways to promote peace and security.
The Einstein Circle honors Albert Einstein, a man whose name is synonymous with genius and social responsibility. The Bulletin was founded, with his help, more than 70 years ago to acknowledge and respond to the public's disorientation around the advancement of powerful science and technology.
Each year, we recognize leadership gifts of $1,000 or more with membership in the Einstein Circle, which celebrates and honors those who offer their financial support at the highest levels. Einstein Circle membership is recognized annually and is based on the total of gifts, pledge payments, and matching gifts received in a single fiscal year (January 1 through December 31).
Your contribution to the Annual Fund for the Bulletin is a personal statement about your belief in the inherent value of evidence-based research and analysis to address the most pressing challenges facing our planet and its inhabitants. Your gifts at any level help to provide resources necessary for the Bulletin to continue this important work.
We look forward to adding your name to our Einstein Circle membership. If you are interested in joining or would like more information about the Einstein Circle membership, contact Anne Puotinen at [email protected] or 773.456.1747.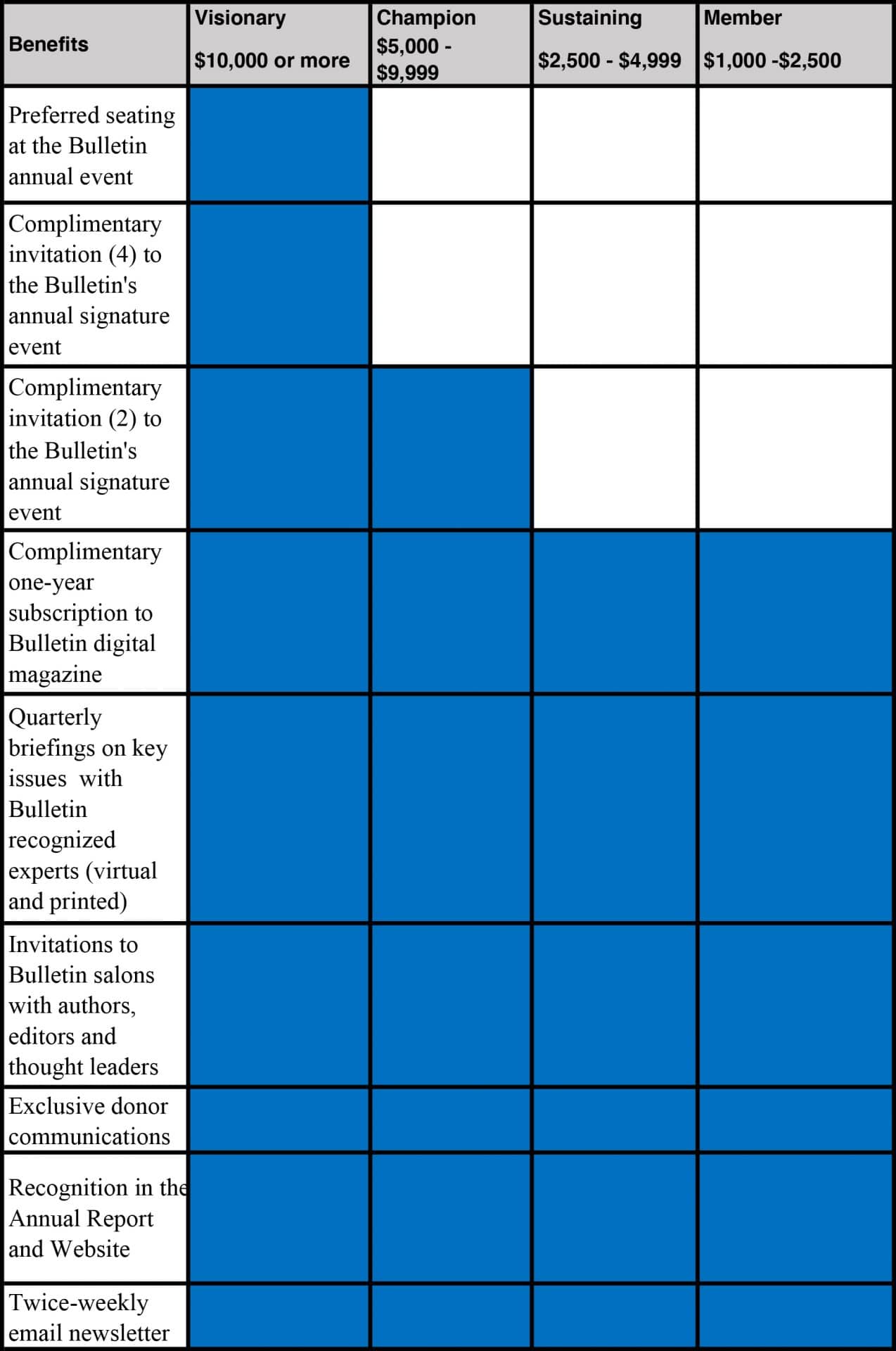 You can increase your giving and qualify for membership though a Matching Gift. When you make a matching gift, you can double or triple the impact of your contribution. Many employers sponsor matching gift programs and will match charitable contributions made by their employees. Ask your human resources department about your company's matching gift policy. Some companies also match gifts made by retirees and/or spouses.
The Bulletin is a US-based 501(c)(3) not-for-profit organization. Donations are gratefully accepted and tax deductible to the fullest extent of the law.