Virtual Tour: Turn Back the Clock
President Ronald Reagan, the USSR's Mikhail Gorbachev and the INF Treaty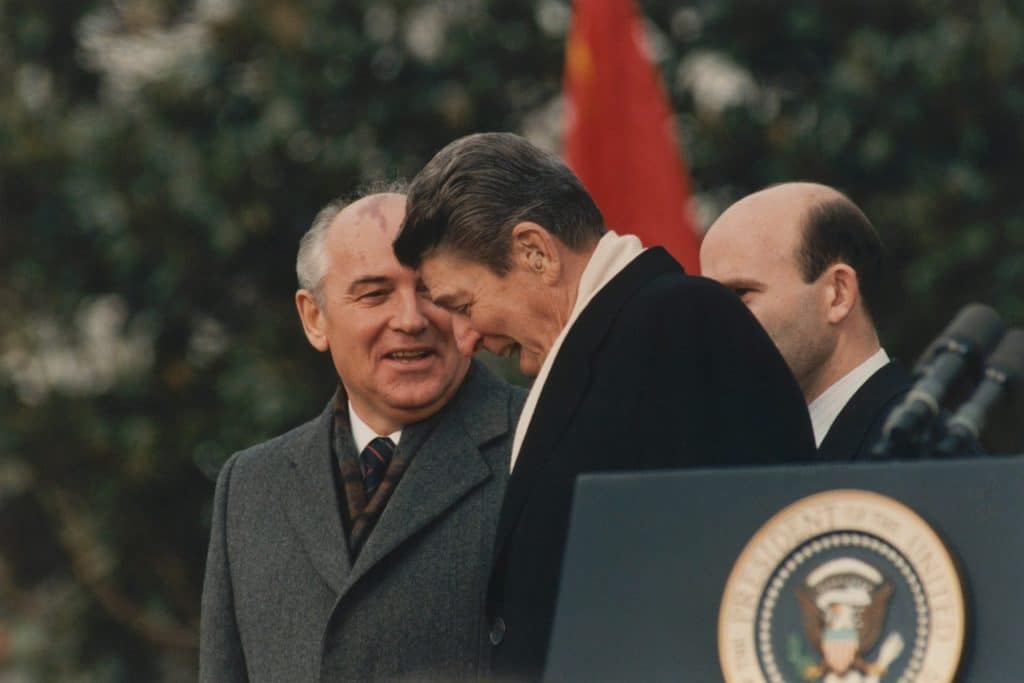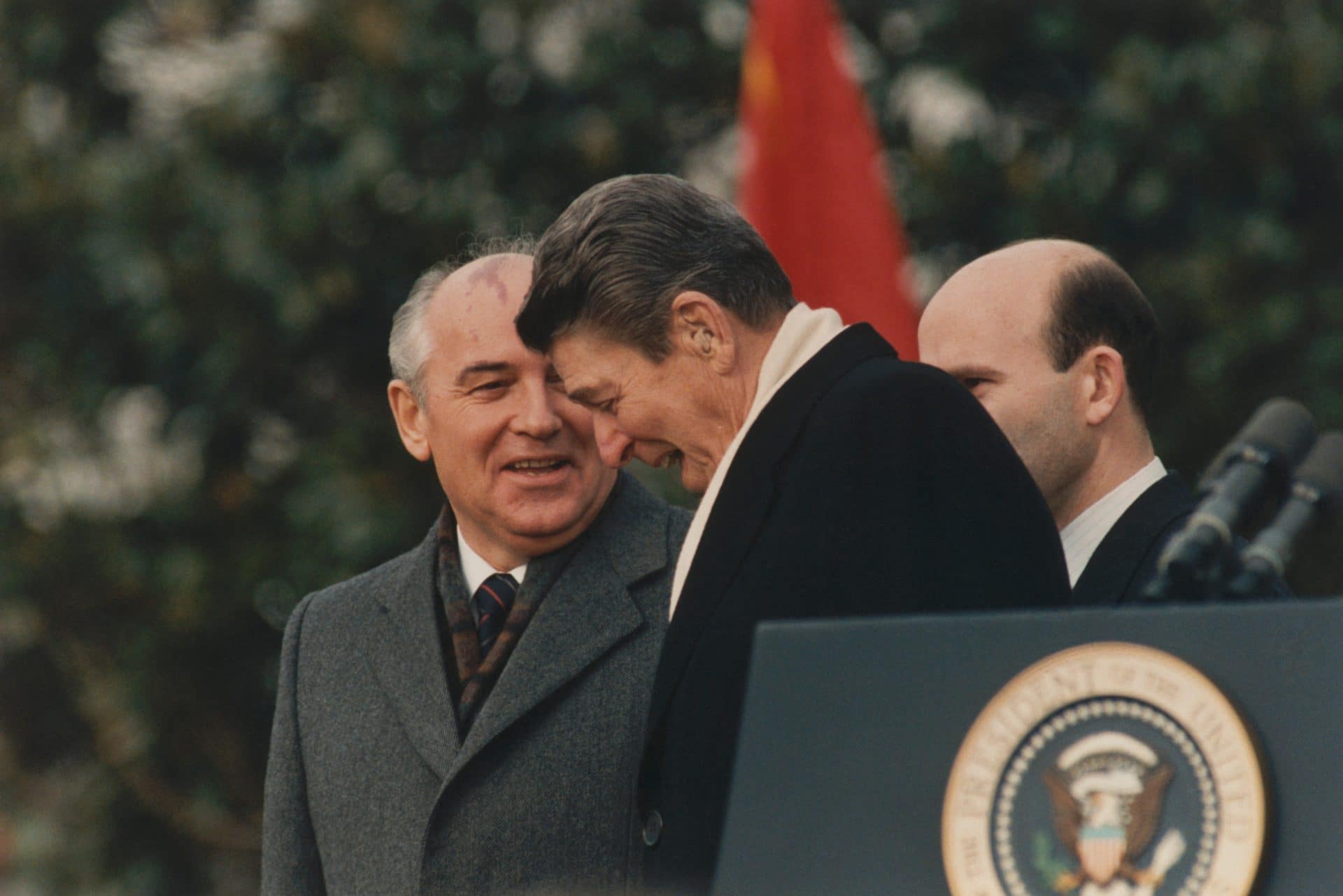 Soviet General Secretary Mikhail Gorbachev (left) and U.S. President Ronald Reagan (right)
The world's nuclear arsenal ballooned in the mid-1980s. Together, the United States and the Soviet Union possessed a staggering 64,099 nuclear warheads. Yet within a few years, US President Ronald Reagan and Soviet General Secretary Mikhail Gorbachev forged a mutual trust that helped eliminate an entire category of weapons: intermediate-range nuclear missiles.
Although their talks progressed in fits and starts, neither leader abandoned his conviction that the time had come to end the arms race for good. The trust built by their ongoing communication was such that by the time they signed the Intermediate-Range Nuclear Forces (INF) Treaty at the White House in 1987, President Reagan told his counterpart: "In working situations, my name is Ron." Gorbachev replied, "My name is Mikhail."
Under the INF Treaty, the Soviet Union destroyed 889 of its intermediate-range missiles and 957 shorter-range missiles, and the U.S. destroyed 677 and 169 respectively. It is the only treaty to eliminate an entire category of nuclear weapons.
Reagan and Gorbachev exchanged 33 letters between 1985 and 1987. They forged a mutual trust that drove the first US–Soviet agreement to reduce nuclear stockpiles.
After the United States and Russia accused one another of violating the treaty, both countries suspended their treaty obligations early in 2019. The United States formally withdrew from the INF treaty in August 2019.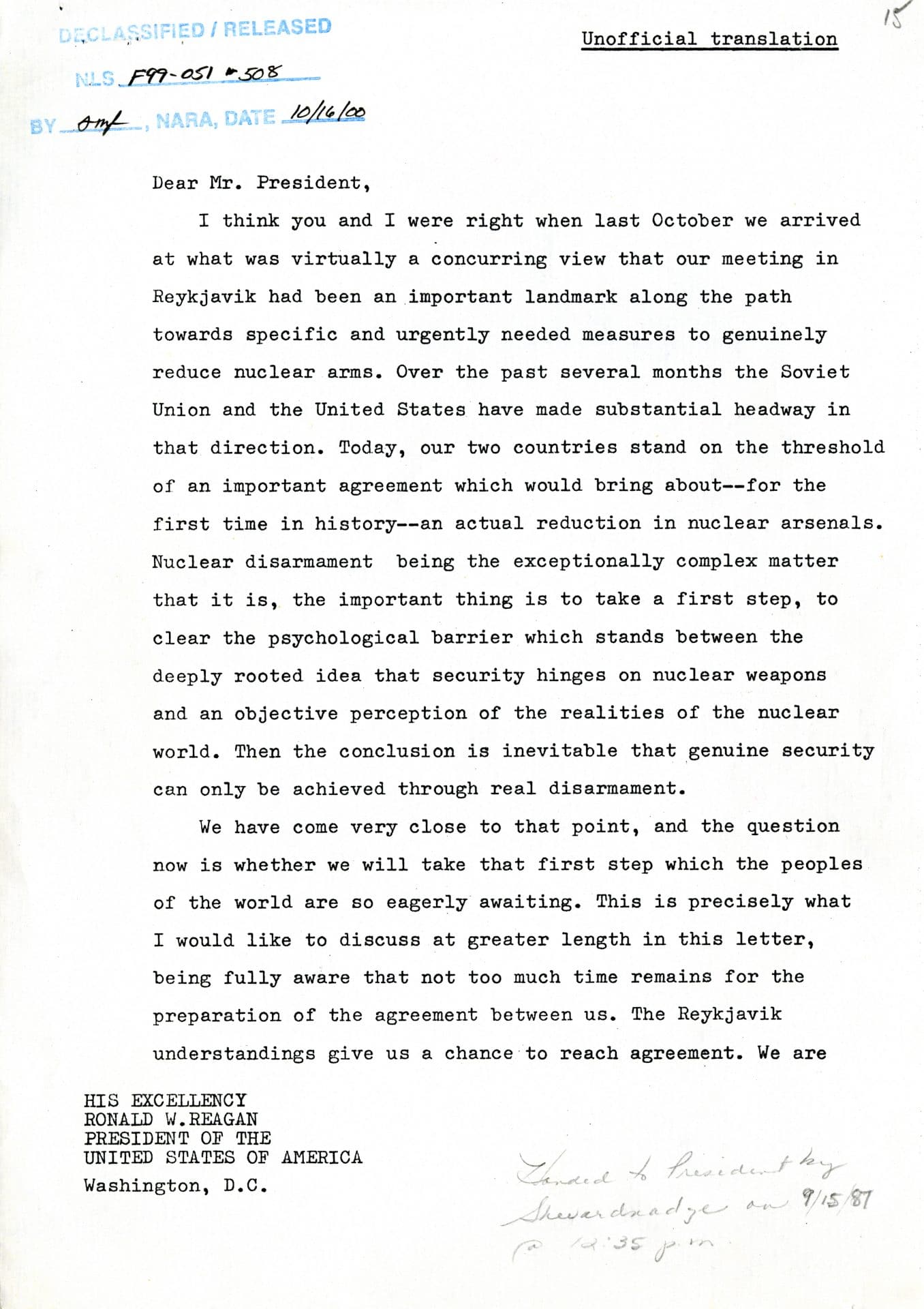 This artifact is featured in our virtual Turn Back the Clock tour. Take the tour to learn more about the history of the Doomsday Clock and discover how you, today, can help "turn back the Clock." Start here. 
Together, we make the world safer.
The Bulletin elevates expert voices above the noise. But as an independent, nonprofit media organization, our operations depend on the support of readers like you. Help us continue to deliver quality journalism that holds leaders accountable. Your support of our work at any level is important. In return, we promise our coverage will be understandable, influential, vigilant, solution-oriented, and fair-minded. Together we can make a difference.
Share: [addthis tool="addthis_inline_share_toolbox"]
This artifact is featured in our virtual Turn Back the Clock tour, based on an all-ages exhibit presented by the Bulletin at the Museum of Science and Industry from 2017 to 2019. Enter the tour to learn more about the history of the Doomsday Clock and what it says about evolving threats to humanity. See why Doomsday Clock matters more than ever and discover how you, today, can help "turn back the Clock."