A contact-tracing nightmare: When did the president catch the coronavirus, and who might he have given it to?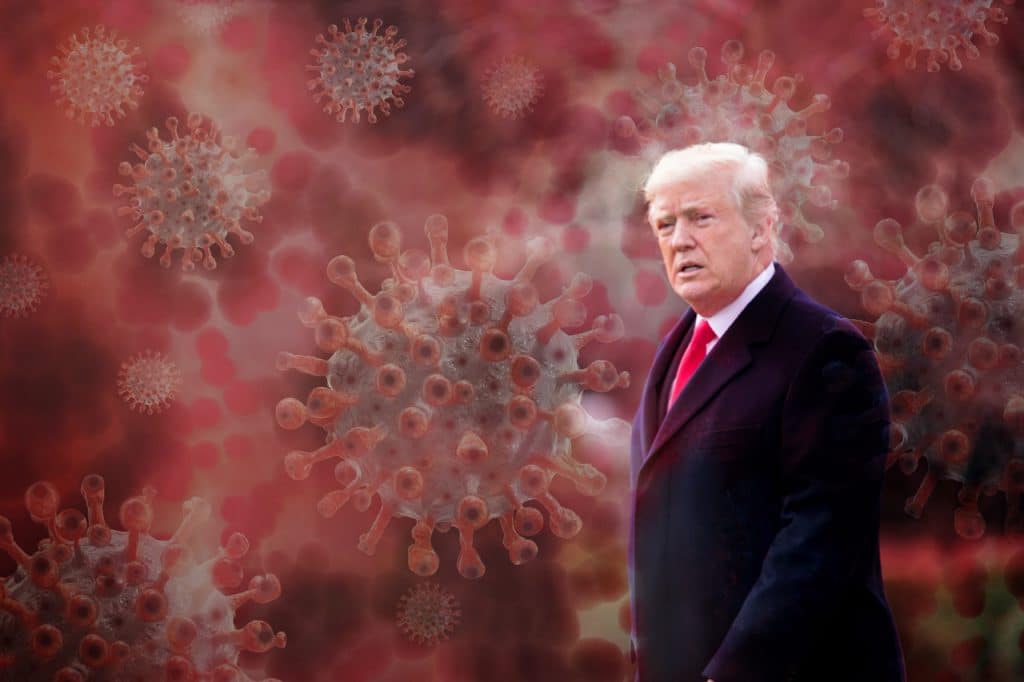 It should not have come as a complete surprise when President Trump announced that he and his wife had tested positive for the COVID-19 virus. As pulmonologist and MSNBC medical contributor Vin Gupta noted, "This did not have to happen if they were practicing the proper procedures and not going to these rallies and having these chaotic events where, of course, airborne exposure was going to happen, even if it was an outdoor setting. No masking, no distancing, what did they expect was going to happen? ... This is bigger than just the president and his wife."
It is, indeed.
Retracing the president's steps over the last week provides a vivid example of how the disease operates, and how it spreads. In this age of rapid travel, it also gives an idea of the wide geographic areas involved—and the enormous problems those who do COVID contact-tracing face. "Considering all their [Trump administration] travels, it is a contact-tracing nightmare," The Guardian's David Smith wrote.
One can get a sense of the scale of the contact-tracing task—how many people a pre-symptomatic Trump may have come into contact with as a COVID-carrier—by scanning press and social media reports about the president's calendar and looking through news photos from places such as Vox  for the past few days.
At 12:54 a.m. on Friday, October 2, Trump tweets that he and his wife have the virus and are now under quarantine.
Tonight, @FLOTUS and I tested positive for COVID-19. We will begin our quarantine and recovery process immediately. We will get through this TOGETHER!

— Donald J. Trump (@realDonaldTrump) October 2, 2020
It is unclear exactly when Trump was infected. Although everyone in the White House reportedly takes a daily COVID-19 test from Abbot Labs, the tests are not 100 percent accurate, as CNN reported on July 3. A test could have said Trump was COVID-free when in reality Trump had the virus and was contagious. As science journalist Melinda Wenner Moyerwrote for the New York Times: "It's dangerous to assume that a negative test means you can't spread this disease."
With those caveats in mind, here is a run-down on Trump's whereabouts in the two days immediately preceding the announcement that he'd contracted COVID-19:
On Thursday, Trump held a rally in New Jersey—a rally rapidly followed by the announcement that close presidential aide Hope Hicks had the virus. (She was semi-quarantined in the back of Air Force One, leaving separately from the rear of the plane when it landed.)
At 4:15 p.m. on Wednesday, just over 32 hours before he announced he had tested positive, Trump arrived, sans mask, at a campaign rally in Duluth, Minnesota, attended by 3,000 people.
On Tuesday, roughly 51 hours ahead of Friday's announcement, Trump and Joe Biden ended their two-and-a-half hour debate; neither candidate wore a mask at their respective lecterns, which, some reports say, were nine to 10 feet apart; Biden and his wife announced Friday that they had tested negative for COVID-19. Also present were Trump's family and supporters, and Biden's, and Chris Wallace, and other Fox News employees.
But could Trump have had COVID-19 even earlier in the week and been pre-symptomatic?
It's not an impossible prospect. Ronna McDaniel, chairwoman of the Republication National Committee, has tested positive for the virus and is experiencing symptoms, the New York Times reports: "Ms. McDaniel is the latest person who is in frequent contact with President Trump to test positive for the virus. She was last with Mr. Trump last Friday, and has been at her home in Michigan since then, the people briefed on the matter said."
If she caught it from him a full week ago—admittedly a big if, as for all we know at this point she could have caught it from someone else, or even given it to him on that day—that could mean that the virus was festering in Trump for days, not hours. (Who gave what to whom—so-called "backward tracing"—can be tricky, as The Atlantic noted in a piece earlier this week.)
Some events from the days since Ms McDaniel came down with the virus:
On Saturday, September 26, photos show Trump meeting in person, without a mask, with his Supreme Court pick, Amy Coney Barrett, in the Rose Garden, along with her husband, their seven kids, and numerous Republican senators. From what can be seen in the press photos, no one is wearing a mask or is following any other social distancing rules. The Washington Post reports that at least two of the attendees—the president of the University of Notre Dame and Sen. Mike Lee (R-Utah)—have each announced that they, too, tested positive for coronavirus. And the Post says that "there was virtually no one wearing masks and no social distancing" at that event that day.
On Sunday, September 27, four days before announcing his official diagnosis, Trump gave a press conference in the White House and later played golf that afternoon at his golf club in Virginia. He was not wearing a mask.
On Monday morning, September 28, three days before Trump's announcement he had contracted the virus, news photos show him and Vice President Mike Pence speaking about COVID testing in the White House Rose Garden, without masks. Pence announced Friday he had tested negative for COVID-19.
So, exactly when Trump caught the virus has a huge effect on who could he have given it to, including places as widely scattered as Minnesota, New Jersey, Virginia, Michigan, and Washington DC.
And illustrates what an enormous job faces contact-tracers.
Together, we make the world safer.
The Bulletin elevates expert voices above the noise. But as an independent nonprofit organization, our operations depend on the support of readers like you. Help us continue to deliver quality journalism that holds leaders accountable. Your support of our work at any level is important. In return, we promise our coverage will be understandable, influential, vigilant, solution-oriented, and fair-minded. Together we can make a difference.
Share: [addthis tool="addthis_inline_share_toolbox"]