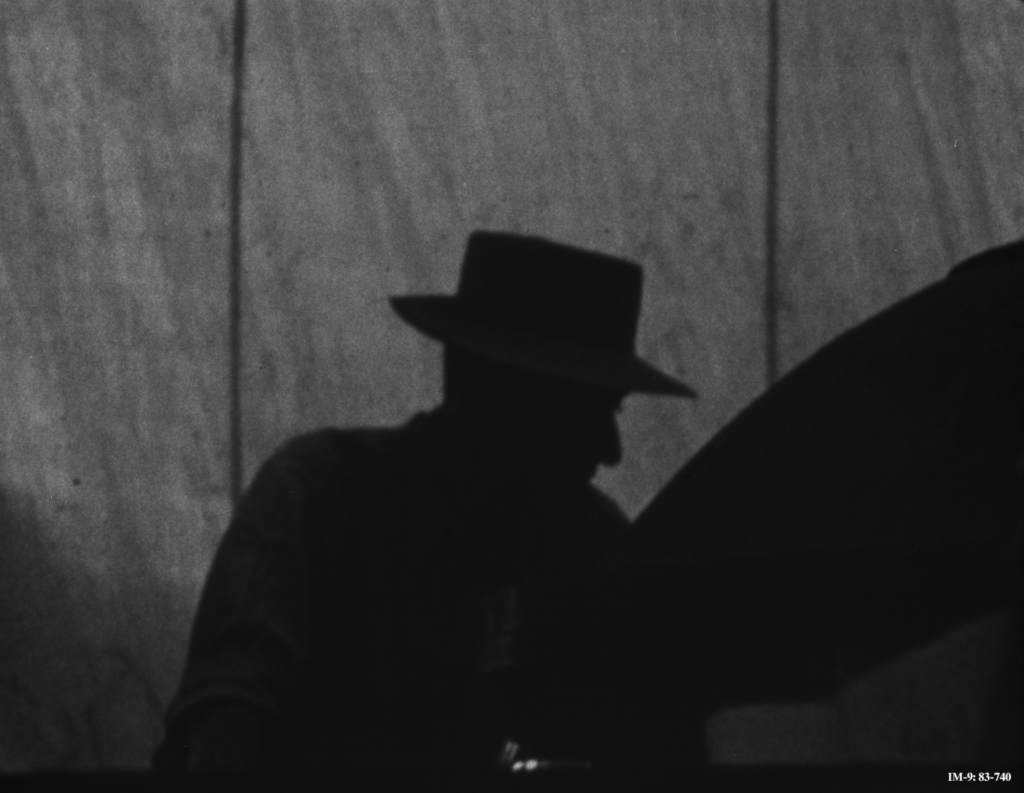 A few highlights from the life of the man and his creation. Long after he died, the thing that J. Robert Oppenheimer wrought lives on—as do the efforts to put the nuclear proliferation genie back in the bottle. Below are a few key moments.
Julius Robert Oppenheimer is born to a wealthy family on Upper West Side of Manhattan. He quickly drops the "Julius" and becomes "J. Robert," though many outside his family simply call him "Oppie," after a nickname he picked up while studying in the Netherlands.

Robert (left) and his brother Frank as children, circa 1918. (Frank Oppenheimer, courtesy of AIP Emilio Segrè Visual Archives)

First visits New Mexico, for his health, while still a teenager. Goes on long horseback rides in the Sangre de Cristo mountains and tells family and friends of hopes to unite his love of the Southwest with his love of science.

Robert Oppenheimer with his horse, Crisis, at his New Mexico ranch. (Photo: Mrs. J. Robert Oppenheimer, courtesy of AIP Emilio Segrè Visual Archives)

Enrolls in Harvard University, where Oppenheimer is considered eccentric; lunch is often a "black and tan"—toast slathered with peanut butter and chocolate syrup. Toys with the idea of becoming a classicist, a poet, or a painter, before settling on... chemistry. He then considers physics.

Portrait of Robert Oppenheimer circa 1928. (AIP Emilio Segrè Visual Archives, Physics Today Collection)

Nobel Prize-winning physicist Niels Bohr gives two lectures at Harvard; Oppie attends both and idolizes Bohr. Physics is now firmly his major. "Niels Bohr was God, and Oppie was his prophet" said a college friend.

After finishing his undergraduate studies, Oppenheimer goes to Cambridge University, England, to work in the lab as an experimental physicist. It doesn't work out. "The glassware starts breaking," physicist Roy Glauber later commented.

Too nervous and high-strung for experimental physics, Oppie moves to Germany's University of Göttingen, then a leading hotbed of theoretical physics. He finds his niche, publishing many papers on the new field of quantum mechanics, and earns his doctorate—at the age of 23.

With his family's help, buys Perro Caliente ("hot dog") ranch in New Mexico, not far from what would one day become Los Alamos National Laboratory.

With Ernest Lawrence (right) at Oppenheimer's New Mexico ranch, Perro Caliente, in 1931. (Photo: Molly B. Lawrence, courtesy of AIP Emilio Segrè Visual Archives)

Building on earlier work by Enrico Fermi, two German scientists at the Kaiser Wilhelm Institute in Berlin cause uranium atoms to "burst" by bombarding them with neutrons, but are unable to explain the result.

American physicists duplicate the German experiments. Lise Meitner and Otto Frisch publish a letter in Nature interpreting the newly discovered nuclear reaction. They name it "fission.

World War II begins with the Nazi invasion of Poland.

German tanks and infantry entering Warsaw, 1939. (Photo from Poland's National Digital Archives)

Roosevelt writes back to Einstein, informing the physicist that he has formed a team of civilian and military experts to study the possible use of uranium fission in a bomb.  Two days later, the US War Department officially allocates the first tranche of money for uranium fission research: $6,000. (Development of the first bombs would eventually cost upwards of $2 billion World War II-era dollars.)

Japan attacks Pearl Harbor. Her allies, Germany and Italy, declare war on the US days later.

The USS Shaw explodes during the Japanese attack on Pearl Harbor in Hawaii, December 7, 1941. (US Navy photo)

With the United States now in a world war and the fear that the American bomb effort was far behind Nazi Germany's, a sense of urgency permeates the US government's science enterprise, heightened by a number of US military defeats in the Pacific and North Africa. Encouraged by British and American reports on uranium isotopes and the feasibility of an atomic bomb, FDR approves work on producing the bomb, effectively formalizing the Manhattan Project. The race is now on.

Now heading the physics department at UC-Berkeley, tells his colleagues "only an atomic bomb could dislodge Hitler from Europe."

Robert Oppenheimer at blackboard. (Photo: US Department of Energy)

Meets with Gen. Lesley R. Groves about becoming scientific director of what would become the Los Alamos Laboratory; appointed to the position not long after.

Gen. Leslie Groves, military head of the Manhattan Project, with J. Robert Oppenheimer, circa 1944. (Photo: Department of Energy)

Enrico Fermi, now working in the United States, succeeds in creating the first human-made, self-sustaining, nuclear chain reaction in the form of an "atomic pile" in a lab under the football stands at the University of Chicago. The scientists announce their success to Washington in code: "The Italian navigator has just landed in the new world." There remains, however, a long way to go between building the pile and building the Bomb.

The scene of the first self-sustaining, controlled nuclear chain reaction on December 2, 1942 was rendered by Chicago Tribune artist Gary Sheahan based on interviews with those present.

Successful test of first atomic bomb at Trinity.

Bombing of Hiroshima.

Now an iconic part of Hiroshima's Peace Memorial Park, the "A-Bomb Dome" was the site of an exhibition hall just 500 feet from ground zero. (Prisma Bildagentur / Getty Images)

Bombing of Nagasaki.

Nagasaki in November 1945. (US Army Air Forces via japanairraids.org)

Oppenheimer sends letter of August 17, 1945 to what would become the US Department of Defense about the inherent problems with nuclear weapons—barely a week after the second and last dropping of an atomic bomb on Japan.

"We believe that the safety of this nation ... cannot lie wholly or even primarily in its scientific or technical prowess. It can be based only on making future wars impossible."

First issue of the Bulletin of the Atomic Scientists published, with Oppenheimer as first chair of its Board of Sponsors.

The Bulletin's first issue, dated Dec. 10, 1945

In the second issue of the Bulletin, under the headline "Senate hearing on atomic energy":

Dr. Oppenheimer advocated destruction of the American stockpile of atomic bombs, if necessary, to get world peace… He said "Today all nations, all peoples, have an overriding community of interest in the prevention of atomic warfare. There would thus seem to be good reason for attempting to establish in the international control of atomic armament those patterns of confidence, collaboration and good faith which in a wider application must form the basis of peace. There may not be a comparable opportunity again."

Oppenheimer is the driving force (and largely the author of) the Acheson-Lilienthal report advocating for international control of all things nuclear.

Doomsday Clock appears for first time with hands appearing on cover of June issue of Bulletin at 7 minutes to midnight.

The first cover of the Bulletin's magazine, designed by artist Martyl Langsdorf.

Oppenheimer on cover of Time magazine.

Oppenheimer argues against development of the hydrogen bomb with the makers of government policy.

President Truman orders a crash program to build hydrogen bomb (better-known at the time as "the Super").

Oppenheimer takes his argument to the world by delivering to the Council on Foreign Relations and then publishing in Foreign Affairs magazine and in the Bulletin an article titled "Atomic Weapons and American Policy." It said:

"We may anticipate a state of affairs in which two Great Powers will each be in a position to put an end to the civilization and life of the other, though not without risking its own. We may be likened to two scorpions in a bottle, each capable of killing the other, but only at the risk of his own life."

Oppenheimer's security clearance suspended, based on FBI reports suggesting (falsely) that he was a Russian spy. Dwight Eisenhower, the new president, directs that a "blank wall be placed between Dr. Oppenheimer and secret data." Oppenheimer challenges the suspension.

Start of 19 days of hearings by a panel of the Atomic Energy Commission's Personnel Security Board, which ultimately refuses to reinstate Oppenheimer's security clearance, effectively ending his government service and "impugned his reputation in a process replete with ethical violations, procedural flaws, and false suggestions that he was a communist, a spy, or both."

Cuban Missile Crisis.

Institution of "hot line" between Washington, DC and Moscow to help avoid mistakes and miscalculations that could lead to nuclear war.

President Lyndon Johnson gives Oppenheimer the Enrico Fermi Award (the Atomic Energy Commission's highest award) in the White House along with a medal and $50,000—even though the AEC still denied Oppie clearance as a security risk.

Oppenheimer recieves the 1963 Enrico Fermi Award from President Lyndon B. Johnson at a White House ceremony on December 2, 1963. (Photo: Department of Energy)

World reaches peak of 69,632 nuclear weapons.

Berlin Wall falls.

In November, 1989, East German students sit atop the Berlin Wall at the Brandenburg Gate in front of border guards.

Signing of first START treaty between USA and the Soviet Union; nuclear arsenals eventually reduced to roughly 13,000.

Declassified hearing excerpts show that Oppenheimer "opposed the hydrogen bomb project on technical and military grounds, not out of Soviet sympathies" and considered the development of hydrogen bombs to be redundant, escalatory, and wasteful.

North Korea tests its sixth nuclear weapon and reveals intention to make an ICBM.

US Secretary of Department of Energy issues an order vacating the 1954 Atomic Energy Commission decision to strip Oppenheimer of his security clearance.

Hands of Doomsday Clock moved to 90 seconds before midnight—the closest ever.

Putin announces "suspension" of Russia's participation in New START.
Together, we make the world safer.
The Bulletin elevates expert voices above the noise. But as an independent, nonprofit media organization, our operations depend on the support of readers like you. Help us continue to deliver quality journalism that holds leaders accountable. Your support of our work at any level is important. In return, we promise our coverage will be understandable, influential, vigilant, solution-oriented, and fair-minded. Together we can make a difference.